Digicat - DIGISYSTEM - from Leica
With the DIGISYSTEM operators can locate, trace and mark underground services quickly, precisely and reliably prior to excavation.
DIGICAT 100 & 200 services locator
Used for detection & localisation of underground services, including cables, metallic pipes and connected equipment.

DIGITRACE 30/50/80
Feed the DIGITRACE up any material pipe, with the Digitex 8/33 connected, to enable very accurate tracing of non-metallic pipes

DIGITEX 8/33
Create a unique signal with the DIGITEX 8/33 for the Digicat to follow - the 8/33 is connected to the Digitrace or to a pipe via alligator clips.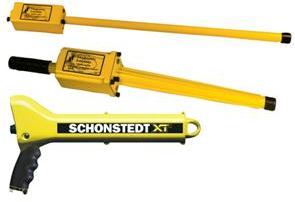 Schonstedt Magnetic Locators - from Schonstedt Instrument Co
GA-72Cd magnetic locator
Includes hard shell carry case, 7 year warranty

GA-52Cx metered magnetic locator
Includes hard shell carry case, 5 year warranty

GA-92XTd retractable magnetic locator (incl display)
Extended for greater sensitivity, retracts for easier carrying.
Includes rugged hard shell carry case and hip holster, 7 year warranty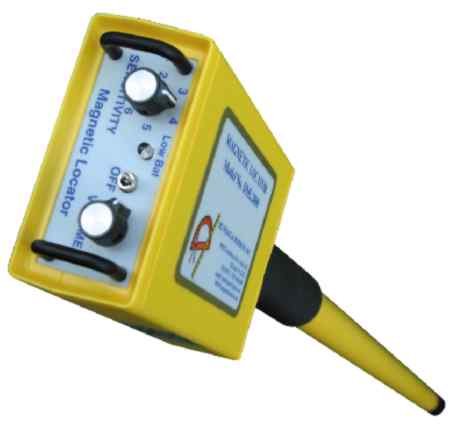 DML2000 - from Dunham & Morrow, Inc.
DML2000 magnetic locator
It's the best locator for finding buried iron or steel items including survey markers, PK nails, underground utilities, and manhole covers just to name a few.
LIFETIME WARRANTY - Covers Everything!
MS100/200 MAG SNAKE® Septic Tank Locator
When used in conjunction with the DML2000 Magnetic Locator the Mag Snake allows you to locate any septic tank, including plastic tanks, up to 9 feet deep.The revolutionary Mag Snake comes equipped with a magnetic header that allows you to trace underground pipe and locate any septic tank; concrete, steel or plastic
Magna-Trak - from CST Berger


Magna-Trak® 101 Magnetic Locator
The value priced standard! The Magna-Trak 101 magnetic locator is a flux-gate type of magnetometer whose magnetic sensing coils are balanced to a finite condition.
Ideal for ferrous metal detection, Rio, pins or other metallic items are easily found.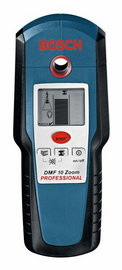 Stud Finders - from BOSCH
BOSCH DMF 10 Zoom Professional - Maximum safety when drilling
Zoom function for even more accurate locating, thus minimising drilling mistakes.
Locates not only metal but also wooden substructures as well as live and non-live cables
Indicates the voltage via a high-resolution 5-segment display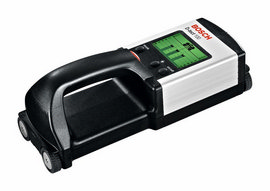 Wall Scanners - from BOSCH
BOSCH D-tect 100 Professional Wallscanner - Maximum safety when drilling
The Bosch D-tect 100 Wallscanner locates all ferrous and non-ferrous metals, electrical cables, wood and even plastic up to a depth of 100m with the highest precision.
All detected objects are accurately shown on the graphic display with the maximum permitted drilling depth.
Offers an extremely high degree of safety when drilling due to its unique technology.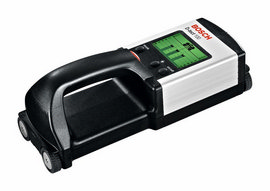 Concrete Scanners - from BOSCH
BOSCH D-tect 100 Professional Concrete Scanner - Maximum safety when drilling
The Bosch D-tect 100 Concrete Scanner has the same features as the D-tect 100 Wallscanner, but is designed for concrete scanning.
Maximum measuring depth of 100m. Detects exact position in dry concrete & even better in wet (5 days to 30 days)

Last Edited: