DIGISYSTEM
With the DIGISYSTEM operators can locate, trace and mark underground services quickly, precisely and reliably prior to excavation.
The DIGISYSTEM product family works to eliminate risks involved in excavation on your site, by removing the possibility for human error from the locating process using the latest in location technology. By introducing an automatic pinpointing facility to accurately locate the cable, always starting up in power mode and at maximum sensitivity the DIGISYSTEM takes away the need for awkward manual tuning, keeps you safer and locates faster.

DIGICAT 100 Buried Service Locator
The Digicat 100 unit is designed to help avoid damage to underground services during excavation and is an easy to operate, fully automatic location system with the ability to manually tune if preferred. Active signal tracing is available by using the DIGITEX signal generator.
Used for detection and localisation of underground services, including cables, metallic pipes and connected equipment.
To a depth of 3m
Visual and audio indicators
40 hour battery life
Under 4kg in weight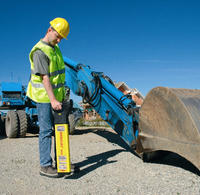 DIGICAT 200 Buried Service Locator with Depth Estimation
In addition to the well proven functions of the Digicat 100 the Digicat 200 offers a one stop depth estimation. In co-operation with the DIGITEX 8/33 (operating in the 33KHz mode) the real depth and location of all services can be found. Available in two display formats, offering depth estimation to 3m or 10ft and an accuracy of approx ±10%
As per Digicat 100 with an additional depth indication to 3m

DIGICAT 200 GIS Buried Service Locator with wireless connectivity
The Digicat 200 GIS adds wireless connectivity to the DIGISYSTEM range. Compatible with a wide range of field proven hardware platforms and combined with simple interfacing with a variety of industry standard GIS software.
The Digicat 200 GIS is an ideal solution for system integrators seeking to integrate buried service locating with GIS and survey mapping processes, using industry standard wireless connectivity. The advanced data output format provides system integrators with the opportunity to further develop innovative data capture and operational management solutions to meet new market opportunities.
Download Digicat 200 GIS Brochure (pdf)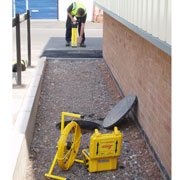 DIGITEX 8/33 Signal Generator
Designed in conjunction with the Digicat locator, to easily and accurately trace the route of, or locate, an underground cable or metal pipe that does not carry a naturally present signal. The Digitex generates a specific "active" signal, which then can be traced using the Digicat.
The Digitex 8/33 is connected to the Digitrace or to a pipe via alligator clips. This combination offers highly accurate results.

DIGITRACE 30/50/80
Feed the DIGITRACE up any material pipe, with the Digitex 8/33 connected, to enable very accurate tracing of non-metallic pipes and ducts with a diameter of up to about 15cm.
DigiSystem - your ideal partner for safe & efficient location of underground services
Last Edited: