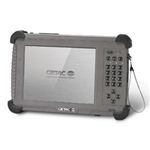 Getac E100 Fully Rugged Tablet
Weighing in at only 1.36kg makes it the lightest rugged tablet PC on the market (8.4")
The versatile easy-to-maneuver E100 is designed with field and customer service applications in mind. Despite it's trim look and feel, the Getac E100 is every bit as tough as the heavyweights. It offers workers in the field an 8.4" sunlight readable display with touchscreen.

Getac V100 Fully Rugged Convertible Tablet
The fully rugged compact notebook that converts into a tablet PC (10.4")
The Getac V100 features a 10.4" LCD display that rotates by 180 degrees to transform this compact notebook into a tablet PC. It is a light weight design with a tough magnesium alloy case and a removable hard drive that is protected against damage during operation .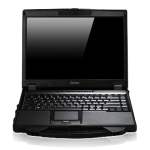 Getac P470 Rugged Notebook
The rugged notebook for the busy professional (14.4" WXGA)
The Getac P470 rugged notebook features a 14.4" WXGA display with optional sunlight readable display, with or without touchscreen for outdoor work environments. With it's magnesium alloy casing, shock mounted HDD, spill proof keyboard and covered ports, Getac's P470 notebook meets MIL-STD810F requirements for drop, shock, vibration and more.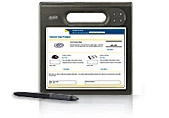 Motion F5v Mobile Field Tool (previous model - Motion F5 Tablet/Slate)
The semi-rugged, mobile field tool that empowers mobile professionals (10.4")
The lightweight, rugged tablet/slate PC that is ideal for field workers who computer and enter data while standing or walking.
Now up to 50% faster with 30% more battery life and Intel® Core™ vPro™ Processors.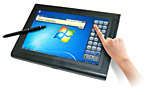 Motion J3500 Tablet PC (previous model - Motion J3400 Tablet PC )
The rugged tablet pc for mobile professionals that require full PC functionality and power in a highly durable, portable device (12.1")
The successor to the Motion J3400 with 40% performance improvement and now with "Touch" and "Pen" input
View Anywhere Display(VAD) maximises visibility outdoors and in harsh lighting environments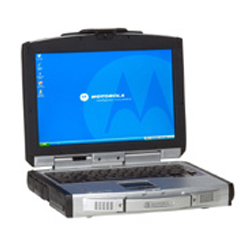 Motorola ML910 Fully Rugged Notebook
Tougher than the toughest
Reliable data available when and where you need it
Please note: The Motorola ML910 has been discontinued from MAPC's range
and replaced by the GETAC V100 fully rugged convertible tablet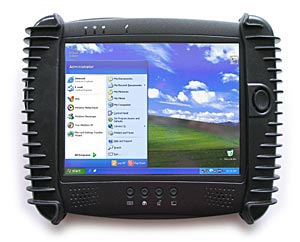 SunPad XP Tablet PC
Semi-Rugged Ultra Mobile PC
from NOVA Mobility Systems

Field PC/PDA's - Archer, Allegro, Getac, Handheld, Bluebird, Recon, Nomad, Ranger etc