CodyCLOSE V4.0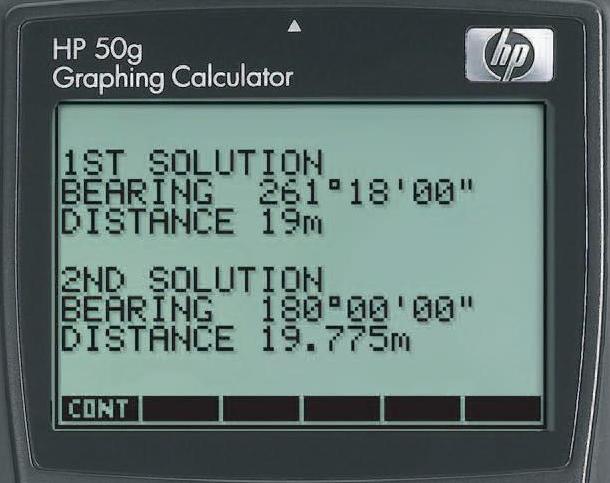 Survey computations for the Hewlett Packard 48GII, 49G+ and 50G series calculators
created by a Registered Surveyor for Surveyors
rapid operation
simple & easy to use display
user friendly menu structure
comprehensive 42 page user manual
trial version available (15 days or 50 uses whatever comes first)
Conversion module
links to metres
metres to links
acres, roods, perches to square metres
slope reduction
feet to metres
metres to feet
bearing arithmetic
Nav module
conversion from any coordinate system to another ISG, AMG & GDA
zone to zone conversions
lat/long to east/north and vice versa
Resection module
easy input and data checking prior to performing the calculation
only limited in size by the calculators memory
optional full computation display
Vertical curve module
computes level at an entered chainage
computes high/low point
Level & grade module
simple and easy input of level runs
computes progressive rises, falls & levels
level computation for straight grades using chainage
Coord module
multiple bearing & distance computation between known points of easting & northing
multiple radiations about a fixed point
coordinate traverse computation
arc to chord computations
scale & sea level correction computations
All programs work in ISG, AMG & MGA zones
Only $181.50* GST inc ($165 ex gst)
Close Module
bearing & distance entered via a run/stop setup
entered data can be manipulated or deleted and re-entered prior to assigning to memory
conversion module duplicated for distance input
data can be reviewed and changed at any time
rigorous internal error checks and user friendly display prompts
curved boundary input
1/2 angle computation
secant computation
repetitive misclose computation at any stage
close can be added to after any type of computation has been performed
area computation (includes arcs)
accuracy computation
bowditch and adjusted area computation with % completed displayed for progress indication
2 missing bearing computation
2 missing distance computation
missing bearing and distance on separate lines computation
performs a screen plot of entered data
Points module
same as the Close module only point driven
AutoCAD compatible (lisp routine provided)
generate HP point file from CSV file (EXE included)
jobs can also be scaled, shifted, rotated, stored and retreived
Horizontal curve module
equal & stepped division
setout computations and division by chainage
setout computations by bearing & distance
eccentric station
Soon to be available for Windows Mobile 5.0 eg. Archer, Recon etc
Created & written by a registered NSW Surveyor
Download Installation Instruction Sheet (140kB)
Download Version 4.0 User Manual (42 pages, 873kB)
CodyCLOSE V4.0 Trial Procedure for HP 50g# (15 days or 50 uses, whatever comes first)
This trial version is a fully functional, time and/or number of uses limited package.
Download and print installation instruction sheet
Optionally download the Version 4.0 User Manual (42 pages)
Copy the trial version install file SURV50E.DAT (77kB) to your PC, using right-click then Save Target As...
In step 8 of installation, the above file is the one you need to find on your PC and transfer to the calculator
In step 11, email the licence number that is displayed on the screen to trialCC4@mapc.com.au and we will email you back the serial number, that you need to enter to complete the installation of the trial version.
* includes electronic delivery of program, manual and installation instructions. Printed manuals and CD's available for small additional charge.
# please ask for trial versions for other models
Last Updated: