Please Note: The Ricoh 500-SE has been superceded by the Ricoh G700SE

RICOH 500-SE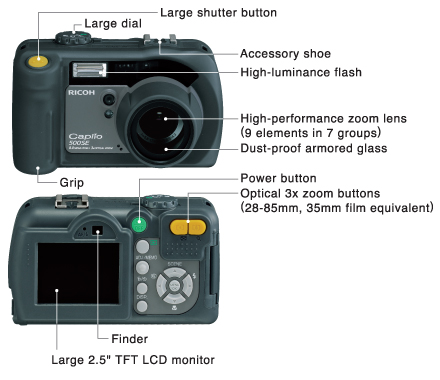 GPS-READY DIGITAL CAMERA
Capture location data with your images
The complete geo-imaging solution
Ricoh understands the needs of the GIS professional. The 500SE provides the definitive streamlined process to integrate quality images into mapping software applications.
Automatically embeds GPS coordinates with captured images
Seamless transfer of pictures and data to mapping software
Rugged field-ready geo-imaging solution
Superior resolution and ease of use
Simplifies workflow and overcomes burdens of traditional methods
Camera Specifications
The 500SE is a state-of-the-art digital camera with robust features to meet and exceed the demand of todays digital photographer
New ruggedized waterproof and shock resistant design
8.0 Mega pixel CCD and ultra rapid shutter response
Improved user interface over the Ricoh Pro G3
3X optical zoom with image stabilization
Native wide-angle 28mm lens
Large 2.5" LCD screen
Optimised for GIS Integration
The 500SE's powerful feature-set provides a host of GIS solutions to ensure any workflow requirements are easily met
Built-in bluetooth 2.0 and ultra high-speed 802.1RICOH WiFi b/g
Receives NMEA data from any bluetooth GPS device
Transfers images to devices via bluetooth or WiFi
Geo-codes images & videos as they are captured
On-board "data-dictionary" for attributing images
Track-log and voice sound annotation
SE-1 GPS Module & SE-3 GPS Compass Module
replaced by SE-2 modules (August 2009)
The new modules are available in two versions. The SE-2g provides GPS capability while the SE-2c offers GPS and a 3-axis compass for direction (azimuth) information.
The SE-2 modules offer; Smaller form-factor, allowing the camera's native cold shoe to remain in place; Simplified module installation (& removal) process; Superior shock reduction and weather resistance; Lower cost; 30 percent lower power consumption; Replaceable USB door covers; Improved GPS performance (40 channel v 20 channel of the SE1/SE3); On-board track-log recording allowing for video to be mapped frame-by-frame (depends on software support); Direct USB connection to PC for module firmware upgrades and diagnostics.
SE-2 GPS Modules: SE-2g (GPS) & SE-2c (GPS and 3-axis compass)
for the 500SE Camera
Ricoh's optional GPS modules with/without digital compass provide a "stand-alone" rugged solution for geo-imaging workflows.
The SE-2 GPS modules fasten to the 500SE digital camera to provide an integrated all-in-one geo-imaging device. The module utilizes state-of -the-art components to provide optimal reception and accuracy in all outdoor environments. Advanced GPS technology and a helix antenna provide optimal fast fix times and a typical accuracy of 1 to 5 metres. The SE-2c GPS/Compass module has the same capabilities as the SE-2g but includes a 3-axis compass to provide azimuth (direction) information as well.
Embeds GPS coordinates and direction with captured images and video.
Seamless transfer of pictures and data to mapping software.
Rugged field-ready Geo-imaging solution.
Superior resolution and ease of use.
GPS (SE-2g & SE-2c)

Precision SiRF Star III, SBAS enabled (WAAS/EGNOS/MSAS)
40 Channels; all in view tracking
Low power chip-set and fast TTFF
Accuracy 1-5 metres, 2D RMS, WAAS enabled
Acquisition Time (average)

1 second Hot Start
38 second Warm Start
42 second Cold Start

Internal Antenna - Active Geohelix antenna
External Antenna - optional Patch antenna via MMEX port

Compass (SE-2c only)

Heading Accuracy - 3 Axis

+/-3° (on average) at level
+/-5° (on average) at +/-15° tilt

Compass accuracy may vary based on environmental conditions & tilt.
Tilt Range +/-80° from horizontal
Accuracy +/-3

Ruggedized and weather proof
Easily attaches to 500SE
The 5 Steps of a Geo-Imaging Workflow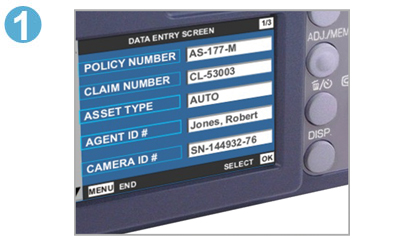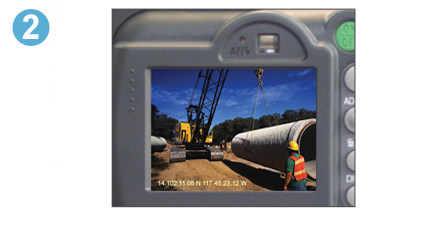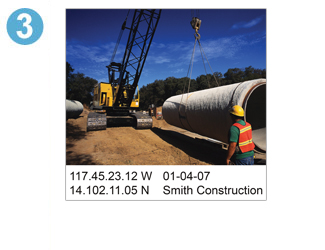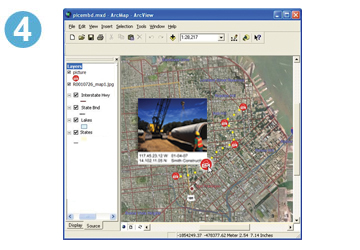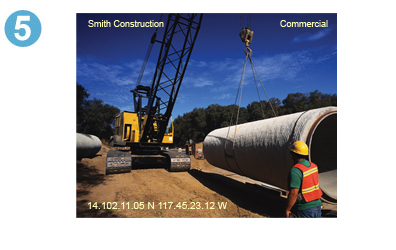 GPS Photo Link Software
Optional GPS-Photo Link software brings all the information together into ArcView or html. The software watermarks and maps photos and creates html web sites and shape files that can be used by ESRI's ArcGIS®. A special ArcGIS plug-in allows users to process photos from within ArcGIS applications - no need to open up a separate program. ESRI shape files showing the location for each photo are automatically created. ESRI ArcView extension for hot linking shape files to images.

Geolocate your photos with the Ricoh 500SE digital camera with onboard Bluetooth and/or WiFi capabilities to accept NMEA GPS information as well as wirelessly send your images to any enabled device. Whether you use your own Bluetooth enabled GPS or the optional SE-1 or SE-3 attached GPS device, you can map your photos by running the optional GPS-Photo Link software. Download trial version of GPS-Photo Link Software (20 days)
for more information visit the RICOH web site and view the Quicktour video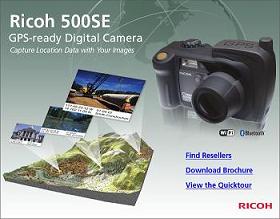 Model
Description
Price ex
L736-34
Ricoh 500SE (W) digital camera with Bluetooth & WiFi
(includes Li-ion battery, AC charger and USB cable)
$1,245
SE-2g NEW
Ricoh SE-2g GPS module (replaces SE1)
$ 217
SE-2c NEW
Ricoh SE-2c GPS/Compass modules (replaces SE3)
$ 512
SE1 discontinued
Ricoh SE1 GPS module - discontinued
see SE-2g
SE3 discontinued
Ricoh SE3 GPS module - digital compass enabled - discontinued
see SE-2c
SE4
Ricoh SE4 Barcode Scanner module
$ 700
M-1000
Holux M-1000 GPS receiver - Bluetooth
$ 117
L736-antenna
External GPS antenna for SE1/SE3 - for car/ helicopter use -2m cable
$ 50
L736-GSE-475
GPS-Photo Link GIS Pro
$ 498
L736-GSE-480
GPS-Photo Link Express
$ 226
L736-GSE-450
GPS Photolink software - ArcPad Edition
$ 347
TP200B
TruPulse 200B Laser (yellow - grey also available)
$1,125
TP360B
TruPulse 360B Laser (yellow - grey or tan also available)
$2,495
L220-41
Spare Li-ion battery
$ 95
L224-17
AC battery charger & Li-ion battery kit
$ 160
L224-VC
12VDC Car Charger
$ 88

L736-2GB SD

2GB SD memory card
$ 25
L736-SD Reader
All in one card reader (USB), read/write most memory cards incl SD, CF
$ 45
L227-00
Wide Conversion Lens (DW-5)
$130
L736-LC
37mm Lens Cap
$ 10
L736-CK
37mm Lens Cap Keeper SE1
$ 7
L736-UVF
37mm UV Filter
$ 14
L736-Cloth
Inca Cleaning Cloth
$ 8
RH-10
Rhino case - pick-n-pluck foam (internal size 253 x 183 x 138) - blue only
$ 80
PEL-1200
Pelican 1200 case w foam (internal size 235 x 181 x 105) - various colours
$90
PEL-1300
Pelican 1300 case w foam (internal size 251 x 178 x 155) - various colours
$110
S-iM2050
Storm iM2050 case w foam (internal size 241 x 190 x 108) - olive, yellow, black
$100
S-iM2075
Storm iM2075 case w foam (internal size 241 x 190 x 184) - olive, yellow, black
$120
L736-LgeBag
Camera Bag
$ 34

Please note: prices are gst exclusive & are a guide only










Recommended Minimum GPS Package;
Ricoh 500SE camera
SE-2g or SE-2c or M-1000 - essential for GPS functionality
37mm Filter - protects lens and is a lot cheaper to replace if damaged (now included free w camera)
2GB SD card - multiple 2GB cards are generally better than a 4GB or 8GB card
Highly Recommended extras;
GPS-Photo Link GIS PRO software - creates ArcGIS shape files, watermarked photos, word documents, Google Earth, HTML, text files and GPX output
or GPS-Photo Link Express software - creates watermarked photos, word documents, Google Earth, HTML, text files and GPX output
Rhino Case / Pelican Case / Storm Case or Camera Bag
| | | | | | |
| --- | --- | --- | --- | --- | --- |
| Rhino 10 | Pelican 1200 | Pelican 1300 | Storm iM2050 | Storm iM2075 | Camera Bag |
| 253 x 183 x 138 mm | 235 x 181 x 105 mm | 251 x 178 x 155 mm | 241 x 190 x 108 mm | 241 x 190 x 184 mm | 190 x 100 x 130 mm |
| | | | | | |
To record distance to item you are photographing........choose TruPulse 200B or 360B
TruPulse 200B Laser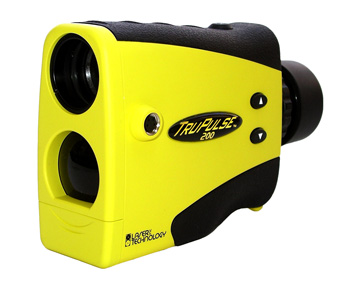 A compact and lightweight laser rangefinder provides "thru-the-lens" viewing, eliminating parallax issues. Offering crystal clear optics, in-scope data display for quick results and advanced targeting modes to easily provide accurate distance and height measurements. The diopter adjustment provides comfortable viewing for eye/sunglass wearers. Utilitizing the integrated tilt sensor, you can measure horizontal or vertical distance and instantly calculate the height of any object with the built-in height routine. Data communication is via wireless Bluetooth®. Use the closest, farthest or continuous mode for multiple targets. Using the Bluetooth feature you can send TruPulse data to the Ricoh camera where it is embedded on your photo. GPS PhotoLink then places your photo at the offset point automatically.

TruPulse 360B Laser
The TruPulse 360 overcomes situational and topographical barriers to allow professional measurement - from any angle - of virtually anything. The TruPulse 360 combines an integrated compass, inclinometer and distance laser that delivers mapping-grade accuracy and the ability to shoot from any angle. The internal circuitry provides 3-axis monitoring of the earth's magnetic field and uses its TruVector compass technology and calibration algorithms to produce the best possible azimuth accuracy. Using the Bluetooth feature you can send TruPulse data to the Ricoh camera where it is embedded on your photo. GPS PhotoLink then places your photo at the offset point automatically.

TruPulse Series Flyer (pdf)

Effective: