Carlson SurvCE is a powerful mobile data collection tool for Conventional Total Stations, Robotic Total Stations and RTK GPS.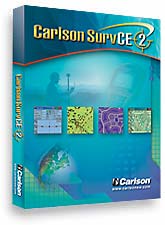 Powerful Data Collection with new Carlson SurvCE 2.0
Get the user-requested features you've been waiting for!
New Carlson SurvCE 2.0 combines advanced functionality, ease-of-use, and sheer capability to make it the first choice in data collection software. Carlson SurvCE 2.0 is a complete data collection system for Real Time (RTK) GPS and Total Stations with in-field coordinate geometry. It supports the widest range of popular and new release RTK GPS and conventional/ robotic total stations.
more information on Carlson SurvCE >>>
For the Ultimate Field to Finish solution - combine Carlson SurvCE or Carlson Field (XP version of SurvCE)
with Carlson Survey 2009 or Carlson Civil Suite 2009
Demonstrations and trial versions available.......contact us at info@mapc.com.au

Last modified: